Stereo Modifications
The stereo modifications I have done so far are:
Alpine CDA-7844 Head Unit

Kicker RS 4.2 Resolution Midrange Speakers

Kicker R5 Midbass Woofers

Kicker Impulse IX404 Amplifier (55 X 4)

Kicker 12" Solobaric Subwoofer

Kicker Impulse IX1302 Amplifier (550 X 1)

Custom Wiring
With the exception of the head unit, I installed the whole stereo myself. It amounts to a total of 770 Watts of power.
Here is a picture of it: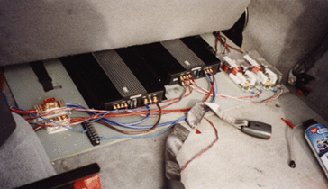 This page was last modified on: Friday, February 11, 2000

Go Back
---
Copyright ©1999, Michael Centola
jeepface@hotmail.com
Jeep® is a registered trademark of the Chrysler Corporation. Jeep, Wrangler, and Cherokee are all registered trademarks of the Chrysler Corporation. Michael Centola, nor this site, is affiliated with Chrysler Corporation.